What's Hot
Do you have critical business data that lives on a desktop computer? Is your critical data backed up? You need a reliable and automatic data backup and recovery solution. We can help.
Introducing the Synology DiskStation DS1515+ ...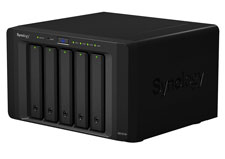 Let us show you how this simple and inexpensive solution can solve your critical data storage, file sharing and backup needs.
News
Windows 10 Has Been Released and it's offered as a free upgrade for most Windows 7 and 8 PCs. Do you need it? Read More...
QuickBooks Pro is a fast, practical, professional accounting solution for businesses with multiple users. Read More...
VoIP Phone Solutions can save you money on Long Distance and give you professional PBX features at a low cost. Read More...
Microsoft Small Business Server is a cost-effective way to provide a central e-mail, file and application server for your small business, with features rivaling medium and large companies. Read More...
Blog
Read our blog to find out our latest rants and tips on technology and small business. We cover our latest interests and projects, as well as things that you might find useful in your business. Read Blog...
Small Business Technology Solutions
When you own or manage a small business, it's tough enough to stay competitive without having to become an expert on all the latest technology and productivity enablers that allow you to compete effectively.
Luckily, you don't have to.
With us as your technology partner, we will provide the technology solutions that allow you to compete and be successful, without letting technology become a burden to your business execution.
The Right Solutions For Your Small Business
We offer turn-key solutions to enable your business, including:
Click on the above to discover more about what we offer for your Small Business, and then Contact Us to see how we can assist your business.

Fill out our contact form
to send us a message